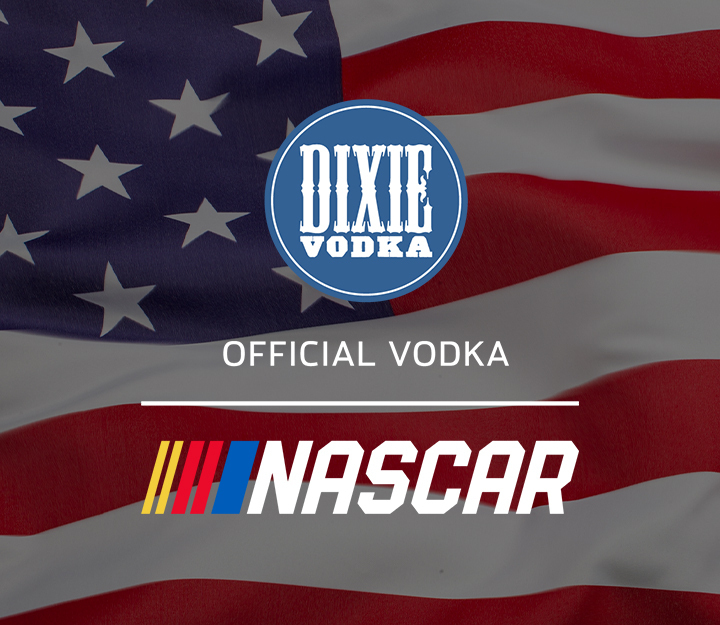 The Dixie Vodka 400 comes at a unique time in our country's history: people are reeling from the pandemic, and an overdue conversation around equality and justice is blooming across all segments of the population. As 'Dixie' Vodka, we uniquely represent the South at home and beyond. We take that responsibility very seriously and strive every day to ensure Dixie symbolizes the best of who we are, and the best of who we can be. The South is a vibrant region – a world renowned destination for cuisine, culture, and the arts and the home of a richly diverse population who give a nod to tradition while directing an enthusiastic eye to the future.
When we launched Dixie Southern Vodka in 2014 our goal was to create a homegrown vodka all Southerners could call their own – a product that represented the best of southern flavor, craftsmanship and hospitality. Since then we've worked with amazing partners to bring our award-winning vodka to life. With our success we find ourselves in a position of influence as we represent our home region across the United States. We realize we need to do more to visibly promote the rich diversity that makes the South so special and help ensure that 'Dixie' is a term that positively represents all of us and not just some of us.
I look forward to personally working more closely with existing and new partners throughout the region to promote diversity within our industry and within our company, while highlighting the amazing work being done by minority craftsmen, artisans, bartenders, chefs and farmers. I also look forward to engaging with other companies and institutions utilizing Dixie as part of their brand identities to find collaborative ways to ensure Dixie represents the best in us as people, companies and a region.
As a first step, I would like to affirm our support of NASCAR's decision to ban the Confederate flag from races going forward. As we strive to live up to the famous southern hospitality our region is so well known for, we should be focused on how we can bring people together, not exclude or marginalize. The public display of the Confederate flag runs contrary to this goal. As an official partner of NASCAR and the entitlement sponsor of this weekend's Cup Series race, we are proud to stand alongside NASCAR in supporting the evolution of a sport we all love and introducing it to new fans throughout our country and the world.
Cheers,


Matti Christian Anttila
Founder, Dixie Southern Vodka + CEO, Grain & Barrel Spirits