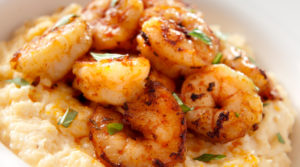 "Silly supper", aka, breakfast for dinner. I'm not one to discriminate – a plate of scrambled eggs, sausage patties, hash browns and pecan waffles is just as sure to catch my attention at 6 a.m. as it is at 6 p.m. Honestly, what's NOT to like about such a meal?
That said, in the instance you might be trying to impress guests or a special someone, one would look quite silly serving up breakfast for dinner. But there's one Southern staple dish that dresses up just as well for lunch or dinner as it does for breakfast – I'm eyeing you – shrimp and grits!
A favorite of the Lowcountry, this hearty meal can start the day with a poached egg, or serve as a closing comfort supper alongside a stiff Dixie Salt & Pepper Martini.
Grits are a staple found throughout the south sourced of ground corn made even better with plenty of butter, cream and cheese. In the same way Dixie Vodka is born and raised in the south, so are artisan grits and gulf shrimp – we Southerners take pride in our ingredients and traditions.
In the old days, a bowl of grits for breakfast would sustain you through a hard day's work in the fields. Today, those grits can do the same – and a shot of Dixie Vodka can also help revive or relief even the longest of days.
The key to delicious grits (besides the butter and cream) is plenty of stirring on the stove. Like a good risotto, the stirring adds more air to the mixture – ensuring the grits come out super creamy yet light on the palate. The recipe below is one of my favorite meals this time of the year – the cocktail too.
Oh, and yes – I'll enjoy both of these recipes for breakfast, too!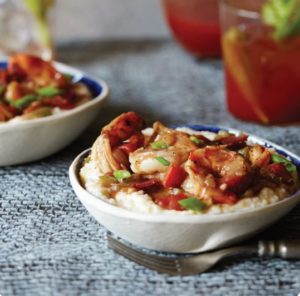 Low Country Shrimp + Grits
4 Tbsp. unsalted butter, divided
1 cup uncooked stone-ground grits
1½ tsp. kosher salt
½ tsp. freshly ground black pepper
1 cup heavy cream
1 lb. unpeeled extra-large raw shrimp
4 hickory-smoked bacon slices, chopped
2 Tbsp. all-purpose flour
1 medium Vidalia or sweet onion, finely diced
½ green bell pepper, finely diced
2 garlic cloves, minced
1½ cups seeded, diced fresh tomatoes
½ tsp. Creole seasoning
½ cup dry white wine
1 cup Quick Shrimp Stock or Chicken Stock
Garnish: finely chopped green onions
1. Melt 2 Tbsp. butter in a medium-size saucepan over medium heat.
Stir in grits, and cook, stirring constantly, 1-2 minutes or until toasted.
Whisk in 3 cups water, making sure no lumps form. Bring mixture to
a light boil and stir in salt and pepper. Reduce heat to medium-low,
and simmer, stirring often, 30 minutes or until grits are tender and
creamy. Stir in cream, and blend well.
2. Meanwhile, peel shrimp, leaving tails on; devein, if desired. Place a
12-inch cast-iron skillet over medium heat 1 minute or until hot. Add
bacon, and cook, stirring often and turning pieces as needed, 5 minutes
or until crisp. Remove bacon with a slotted spoon, and drain on
paper towels, reserving drippings in skillet.
3. Sauté shrimp in reserved drippings 2 minutes or just until shrimp
turn pink. Transfer shrimp to a plate, reserving drippings in skillet.
4. Add remaining 2 Tbsp. butter to reserved drippings in skillet, and
cook until butter melts. Whisk in flour, and cook, whisking constantly,
6 minutes or until flour is caramel colored. Add onion and bell pepper,
and sauté 6 minutes or until tender. Add garlic, tomatoes, and
seasoning; sauté 5 minutes or until tomatoes are slightly softened.
5. Add wine, and cook, stirring with a wooden spoon to loosen any
browned bits from bottom of skillet, 1 minute. Gradually stir in stock,
and bring mixture to a light boil. Stir in shrimp, reduce heat to low,
and simmer 3 minutes or until shrimp turn bright pink and opaque.
6. Spoon grits into shallow bowls, and top with shrimp mixture;
sprinkle with bacon. Serve immediately.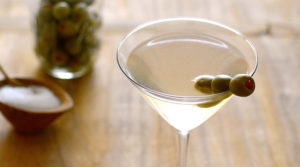 Salt & Pepper Martini
2 oz. Dixie Southern Vodka
2 oz. Dixie Black Pepper Vodka
2 oz. brine from olive jar
Olives
Combine Dixie Southern Vodka, Dixie Black Pepper Vodka, and brine in a shaker with ice. Vigorously shake all ingredients together until shaker is cold, and pour into a martini glass. Garnish with one or three olives — two is bad luck!